Standard House Colors
At BG Concepts, our business and our expertise is textile screen printing. We focus on delivering the product you need, when you need it, and always at the highest possible quality.
STANDARD HOUSE COLORS ::
Are inks that we keep pre-mixed and ready to print at all times and they do not require a custom color mix charge.
We can provide exact PMS color matching,based on Standard Pantone "Coated" colors. This is the preferred method for designs or logos requiring exact color requirments, since they can be easily matched and reproduced, for future runs. All PMS and custom colors require a $10 mixing charge per color.
BG Concepts Standard House Plastisol Colors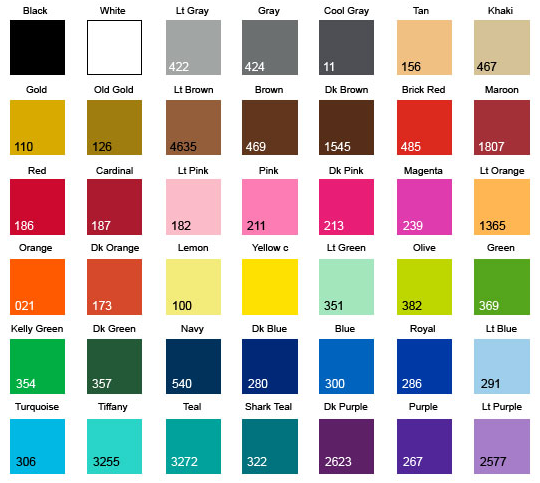 IMPORTANT NOTE::Colors shown on the screen are for reference only. Precise color matching should NEVER be done on the computer screen. Colors will vary quite significantly on different computer monitors.
For best color accuracy a Pantone Book should be used to reference the PMS colors noted above. PMS Colors stated above are based on the "Coated" swatches, not "Uncoated".